It's with great pleasure and pride we announce that we have an award winner in our team!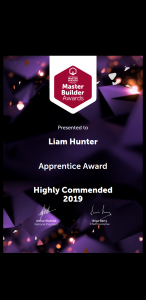 Apprentices can form a crucial part of your business's future; helping you tackle your toughest workloads whilst learning the skill to take the lead next time around. The FMB offer a chance for companies like ourselves to show appreciation by nominating apprentices for the FMB Apprentice Award.
Liam joined us full time in Spring 2018 and has consistently impressed our team; someone who goes beyond the call of duty and readily applies new skills to high quality work, we thought he deserved a nomination.
There was many outstanding entries received across the North West, Northern Counties and Yorkshire and Trent regions. The independent judges were very impressed with the overall calibre of nominations. Our nomination for an Apprentice Award was selected as a Highly Commended entry in recognition of Liam's hard work and commitment to your training.
Keep up the hard work Liam!

The Federation of Master Builders strict membership criteria and dispute resolution service gives consumers confidence when looking to use a builder.
Only those builders and specialists who have passed strict vetting processes are accepted as members.